The Investment Association (IA), whose 250 members manage £7.7 trillion of assets, has told the union that it's got serious concerns about the pension allowances awarded to Mr. Antonio Horta-Osorio, Group Chief Executive, Mr. William Chalmers, Chief Financial Officer designate and Mr Juan Colombas, Chief Operating Officer. As a result of those concerns the Investment Association has "amber" topped the Lloyds Banking Group's Remuneration report, which will be voted on at the AGM meeting on May 16th. The Investment Association says: "An amber top reflects a significant issue which members will have to consider prior to voting". We now expect that many of the largest institutional investors will vote against the Group's Remuneration report.
In a letter to the union, Andrew Ninian, Director, Stewardship and Corporate Governance at the Investment Association said: "…the reduction in the CEO's pension is £153,559, while at the same time Mr. Horta-Osorio's Fixed Share Award is increasing by £150,000 for 2019. Shareholders have been clear that they do not expect that compensation should be awarded for reductions in contributions in order to align executive pensions with those available to the workforce".
He goes on to say:
"An amber top is a reflection of a significant issue and (the Investment Association) has identified three areas within Lloyds Banking Group's remuneration report – relating to the remuneration of the CEO, the COO and the CFO-designate – which would individually warrant an amber top".
If it wasn't for the union leading the campaign on this issue both inside and outside the bank, including writing to the Investment Association setting out our concerns, the obscene pension allowances paid to Mr. Horta-Osorio and the other executive directors would have gone unchallenged. After receiving letters from the union, MPs Frank Filed and Rachel Reeves, who chair the pensions and business select committees respectively in Parliament have written to Lloyds asking for an explanation about why Mr. Horta-Osorio gets a much more generous pension than the bank's staff.
It was also this union that forced Mr. Horta-Osorio to give up his second final salary pension.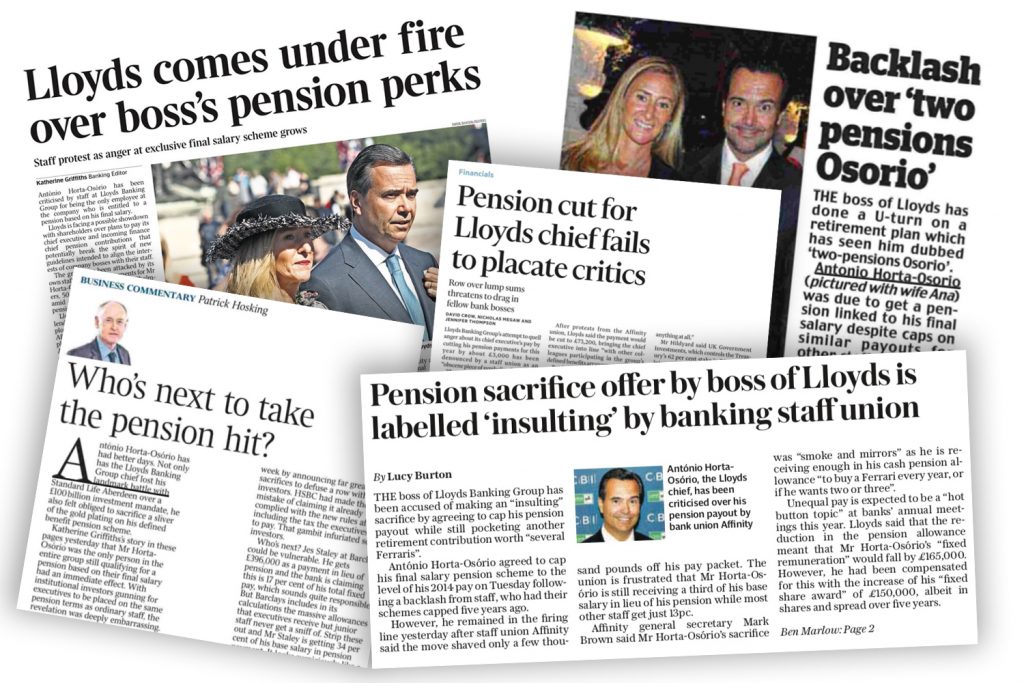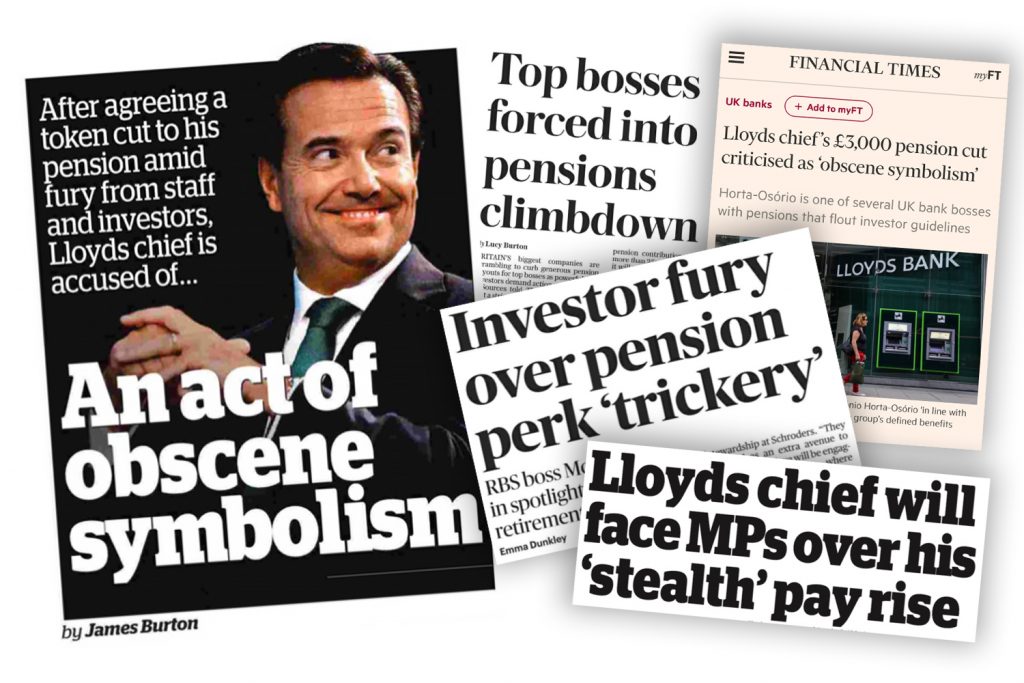 A Pay Ratio Of 169 For Mr. Horta-Osorio
Whatever happens at the AGM, Mr. Horta-Osorio and colleagues can't continue to receive pension allowances which bear no relation to those available to everyone else in the bank. An employer contribution of 13% of base salary, would still give Mr. Horta-Osorio a pension allowance of £165,007. That's more than enough for anyone. And to put that into perspective, it's 5 times more than the median (£30,364) basic pay for staff in Lloyds Banking Group. Moreover, before some in the bank start a crowd funding page to save Mr. Horta-Osorio's pension allowance, it's worth remembering that in 2018 he received a total remuneration package that was worth 169 times more than median package paid to staff (£6,270,000 compared to £37,058).
Members with any questions on this Newsletter can contact The Union's Advice Team on 10234 262868. A copy of the letter from the Investment Association is on the union's website.