The bank will announce its results for 2020 on Wednesday. It will also provide details of its recognition shares for staff. Members shouldn't get too excited because the value of those shares is not going to cover the loss of the Group Performance Shares Awards for 2020. Matt Sinnott said: "I fully recognise that, for many of you, the absence of 2020 GPS awards will have a meaningful impact on your overall reward package". But the fact that you're not getting any bonuses "in no way reflects the incredible effort which everyone put in last year".
Let's see how other banks have reflected the incredible efforts their staff put in last year. NatWest announced that its bonus pool for 2020 was going to be £206 million. Less than last year but that's to be expected. Barclays bonus pool for 2020 increased by 6% to £1,6 million. Now most of that will be spent in the investment banking division but UK staff will all get bonuses. And TSB, which made a loss of £205 million, reduced its bonus pool by half but still managed to give all staff a bonus worth 3.9% of salary. HSBC announced a bonus pool of $2,654 million.
Given what's happening in other banks, why is Lloyds different? The shares members will get on Wednesday will be worth just a fraction of what you would have got even if the Lloyds bonus pool had been reduced by half. And members are quite capable of buying their own shares, if that's what they want to do.
In December last year when the bank announced there would be no bonuses for staff but recognition shares, we said:
"Mr Sinnott says: "we are looking at ways to express our thanks and help you build your stake in our future business in the form of recognition shares … ". Why are the bank doing that? Staff will probably get a few hundred pounds worth of shares if they are lucky. The reason for such an award, is not because the bank wants to recognise staff performance, it's a smoke screen to allow senior executives to get their big share awards under the Group Ownership Share Plan. Members of the GEC were given 45,594,472 shares worth £10,268,582 between them earlier this year. They want the same again next year".
Greed Is Good?
If 2020 was so bad that Lloyds can't afford to give staff any GPS awards, then we would expect it to announce that there will be no Group Ownership Share Plan awards for senior executives. If there are no bonuses for staff but massive share options for executives, then that will tell you all you need to know about the priorities of the bank. Last year awards for the 2019 performance period were made on 5th  March 2020. The awards were as follows: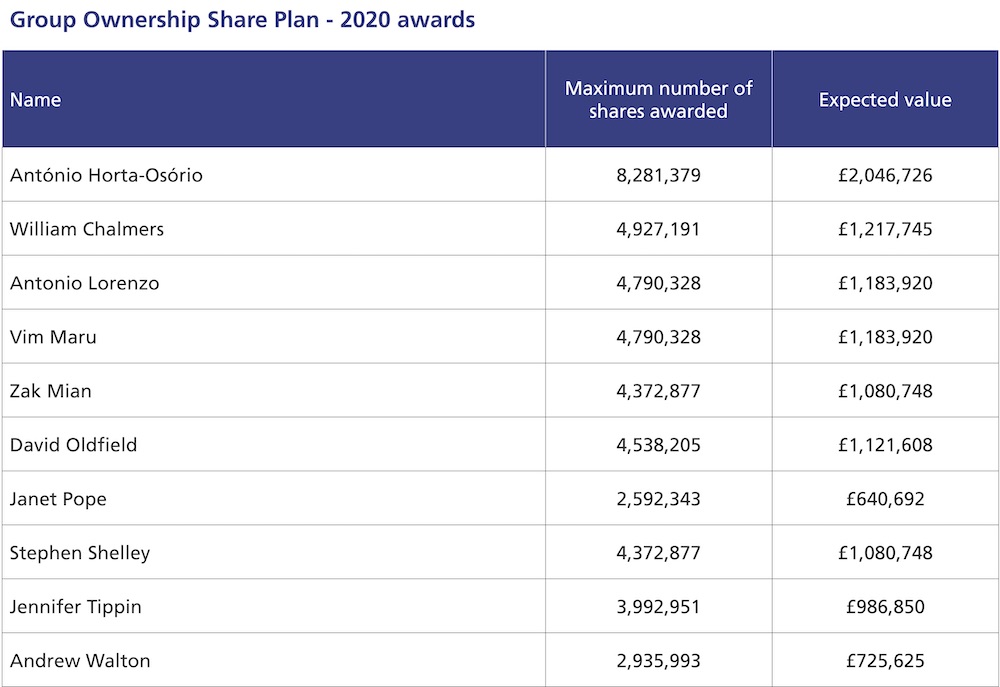 Mr. Sinnott likes to get feedback from staff so perhaps someone can ask him how many shares he'll be getting this year and how much they are worth? And then you can ask him to justify why he gets share awards, but staff don't get bonuses? If the bank's performance is so bad for 2020, then nobody should get anything other than recognition shares. And that includes all executives.
The bank tries to publish details of the share awards when they think nobody is looking. Rest assured, we'll be checking every day.
Members with any questions on this should contact the Union's Advice Team on 01234 262868 (choose Option 1).