In the rush to achieve Charlie Nunn, the Group Chief Executive's demanding growth targets we are beginning to see some of the old-style sales techniques – like the use of 'whiteboards' to track individual and peer group performance – beginning to creep back into Lloyds. And if those sales practices aren't stamped out immediately by the bank, then they'll become more pervasive.
When he announced his new strategy in February, Charlie Nunn said that his new initiatives would be expected to generate additional revenue of £700 million by 2024, increasing to £1.5 billion by 2026. He said that: "We need to grow our business and diversify to reduce our dependence on interest income. To achieve this, we have a unique opportunity to deepen relationships with our existing customers – both with consumers and businesses of all sizes".
'Share of Wallet'
Lloyds is not going to be reintroducing target related sales incentives, but what we are more concerned about is how individual performance is going to be managed. In the drive to achieve its new growth targets will Lloyds become more aggressive in the way it manages individual performance. Will the Lloyds culture revert back to its obsession with 'share of wallet' and number of products held per customer? Some members in the branch network would say that it's never really changed but is it going to get progressively worse the closer we get to 2024? An analyst hit the nail on the head when he asked Charlie Nunn about his observations about the Lloyds culture, in the context of his new sales growth targets, saying:
"…. what's your observation, what have you found since your arrival at Lloyds, because you are talking about the products per customer and trying to sell more. But if there is one thing that has characterised Lloyds in the last ten years, it has been a very aggressive approach to its customers. We have seen that with things like PPI, where your exposure was much bigger than everybody else's.
Charlie Nunn never answered the question directly saying that Lloyds would be using the large amount of data it holds on customers to engage with them directly. Lots of companies talk about data mining, leveraging machine learning and building predictive models to improve commercial performance but very few actually achieve it. And let's be clear, banking products are sold not bought.
Whiteboards In Commercial Banking
Can we see the bank's 'new' culture in South Yorkshire? Commercial Banking staff have been told that they must complete a 'digital whiteboard' every week setting out their planned performance against key performance indicators. According to the bank these whiteboards:
"will allow you to see how you are contributing to you team's outputs in the coming week".
It goes onto say:
"the key appointments you call out should be the client meeting in the coming week where you believe there is more opportunity, be that around lending, working capital or client solutions".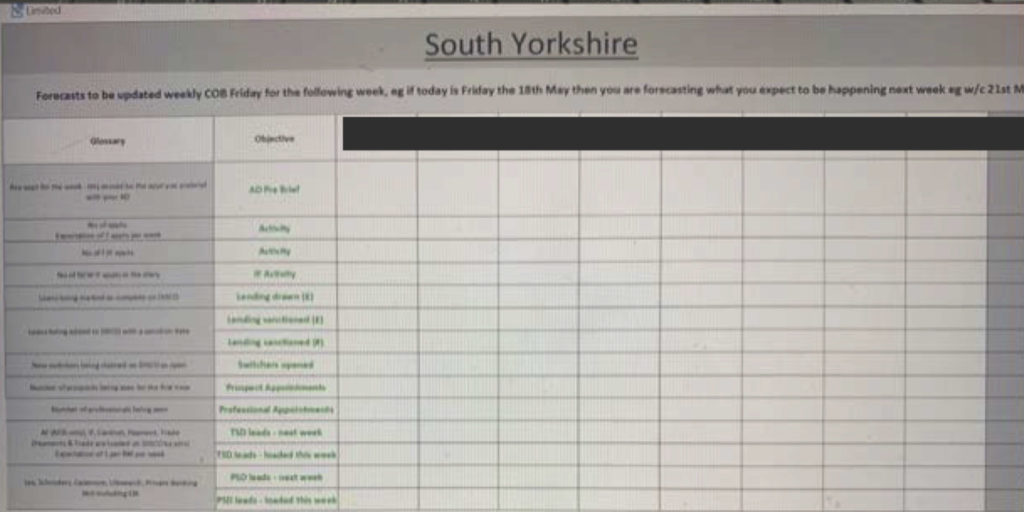 So, every member of staff in the region will be able to see how every other member of staff is performing against their key performance indicators. The member of staff with the lowest number of appointments or the one doing the least amount of lending and the one with the lowest number of leads will be easily identifiable, irrespective of the reason. And that information will, in theory, be available for everyone in Commercial Banking to see. The whole point of these whiteboards is to drive individual performance through peer group pressure – no one wants to be at the bottom the table although someone has to be! And once Commercial Banking gets away with this, what's to stop it introducing actual performance league tables. It's these kinds of knee jerk sales management techniques that got Lloyds into trouble in the past.
The bank needs to stop these practices now. It's been warned.
Members with any questions on this Newsletter or other examples of dubious sales practices in their areas can contact the Union's Advice Team on 01234 262868 or they can email us at 24hours@btuonline.co.uk.
GPS Bonuses Awards
The GPS 2021 bonus award for staff in grade A-C was set at 5% of basic salary. Line managers have the discretion to adjust those awards upwards for exceptional performance or contribution to a maximum of 10%. However, the bank doesn't produce any guidelines or any guidance whatsoever telling staff how line managers are supposed to apply their discretion. Every decision is made behind closed doors and line managers don't have to justify what they've done or not done in the case of those staff who believe their performance or contribution merits a higher award. The HR led 'appeal panel' is also a waste of time because it too operates behind closed doors and doesn't have to justify any of its decisions. There is no transparency in the awarding of exceptional bonuses. That needs to change.
The bank should produce guidelines immediately to avoid the accusation of line management favouritism when it comes to the awarding of exceptional bonuses.
Every Little Helps!
We have written to the Trustee of the Lloyds Banking Group Pension Trustee Limited asking it to divest itself of any Russian assets or bonds.
In that letter we say:
"Lloyds Banking Group has said that: "It is important that we do what we can to help the people of Ukraine".
A number of pension funds have said that they have told their fund managers to sell all existing Russian shares and government backed bonds as soon as possible with pledges that they will not to buy any in future. Mark Fawcett, Chief Investment Officer of Nest – the state-supported National Employment Savings Trust – said recently: "We want to be responsible investors. We also wanted to maintain the trust of our members. We think they could reasonably expect us to divest".
Lloyds Banking Group Pension Trustee Limited manages some of the largest pension funds in the UK. Whilst I appreciate that the Trustee will have only a modest exposure to Russian shares and bonds, it should, in support of the people of Ukraine, divest itself of those assets it holds with immediate effect.".
We will publish the Trustee response on the union's website.
If you know of any Accord members in your branch or office, forward them a copy of this Newsletter to read.