The hearing into whether 3.9 million 50s born women have been cheated out of their state pension by the government has been set by the High Court for May 24.
Background
The Pensions Act 1995 provided for the State Pension age (SPA) for women to increase from 60 to 65 over the period April 2010 to 2020. 
The Coalition Government legislated in the Pensions Act 2011 to accelerate the latter part of this timetable, starting in April 2016, when women's SPA would then rise to 66 by October 2020.
Some women born in the 1950s argue they have been unfairly disadvantaged with significant changes to their SPA imposed with a lack of notification. 
Women Against State Pension Inequality
The campaign Women Against State Pension Inequality (WASPI) is calling for "fair transitional state pension arrangements" which they say translates into a bridging pension paid from age 60 to State pension age. WASPI's petition, which is currently on the Parliament website, calls for:
"……a non-means tested bridging pension for women born on or after 6/4/1950 who are affected by the 1995 and 2011 Pension Acts and compensate those at risk of losing up to around £45,000, to also give proper notification for any future changes".  
In 2015 the Work and Pensions Select Committee concluded that "more could have and should have been done" to communicate the changes and called on the Government to "explore the option of permitting a defined group of women who have been affected by state pension age changes to take early retirement, from a specifies age, on an "actuarially neutral basis".
WASPI has been actively encouraging those who were inadequately informed of the changes to complain to the Department of Work and Pensions and thousands of members have done that. The campaign has also held numerous rallies and in October tens of thousands of men and women marched on Parliament demanding equal treatment.
The Government's Position
The Government argues that the changes to the 2011 Act were debated in Parliament and a number of concessions were made to limit the affects of the changes. Reversing the changes all together would cost it in the region of £77bn by 2020 -2021. 
The Union were approached by a member in Barrow-In-Furness, Christine Taylor, to support her local WASPI group in its campaign activities including attending marches. Pete Munday, Vice Chairman of the Union and previously a Member Nominated Trustee, met with Christine and presented her group with a cheque for £300.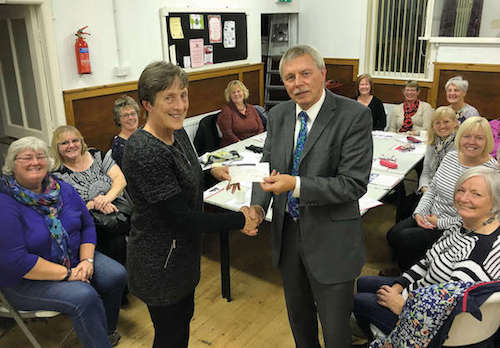 Cases Of Hardship
Helen, 61, from Wakefield in West Yorkshire, began working and paying national insurance at 15. "In April 2016 I decided to find out what my state pension would be in October, with just six months to go. I didn't know the age had increased. I had been made redundant in early 2013 and thought I could make my redundancy money last until I retired. I have to go to food banks to put food on the table" 
Colleen, 63 … "I sit in my house with no heating on all day, I wear jumpers upon jumpers and cover myself in blankets because to heat my house would be too expensive," she said. "There isn't a word bad enough for me to explain what I think of the treatment I've received from successive governments."
Colleen, from Aylsham in Norfolk, said: "I'm 63 years old and I started work at 15. When I got married at 17 and started my new job two days after my wedding. I never received any letter about my state pension age and only found out [about the change] when I signed on for jobseeker's allowance at 59.
We will report back to members after the court case.
Pensions Victory – The Making Of History
It's a little known fact but the principle of equal pay for work of equal value, which was at the heart of our recent pension case, can be traced back to the Treaty of Versailles 1919 (Article 427), which brought World War 1 to an end.  
The fact that our pension case was won (26th October 2018) almost 100 years to the exact date when the fighting stopped (11th November 1918) makes our victory on pensions equalisation for millions of women that much more significant and poignant.
What Was It All About?
Individuals could accrue an entitlement to an earnings-related addition to their basic state pension, called the State Earnings Related Pension Scheme (SERPS). Employers could 'contract out' their pension schemes, which is what Lloyds did, if they provided a pension at least as good as a statutory minimum known as the Guaranteed Minimum Pension (GMP). The GMP is part of a member's total pension. 
The outcome is straightforward. The pensions of female members of the pension schemes increase at a lower rate than the pensions of male members. We argued in the High Court that was discriminatory on the grounds of sex, or, put another way, women receive less pay than men for doing the same work.
What The High Court Said
In the Lloyds Banking Group Pensions Trustee Ltd  v Lloyds Bank plc and others, Mr Justice Morgan found that the Trustee: "is under a duty to amend the Schemes in order to equalise benefits for men and women so as to alter the result which is at present produced in relation to GMPs".
The Court also ruled that Scheme members are entitled to receive arrears of payments due to them together with simple interest at 1% above base. 
The period for which beneficiaries are entitled to receive arrears of payments is governed by the rules of the Scheme. In the case of Lloyds, that's six years from his/her claim.
The Next Steps
The judge has made a Holding Order, effectively adjourning further proceedings until the parties have agreed the terms of the declaration the judge will be asked to make. 
That declaration determines exactly how the judgement will be implemented for the LBG pension schemes. There will a further hearing to deal with the questions relating to transfers out of the pension schemes. We expect that hearing to be in 2019.
However, as GMPs were designed to integrate with the then state pension, and the rules governing them are set out under legislation, there was some doubt as to whether Barber applied.
What The Papers Said …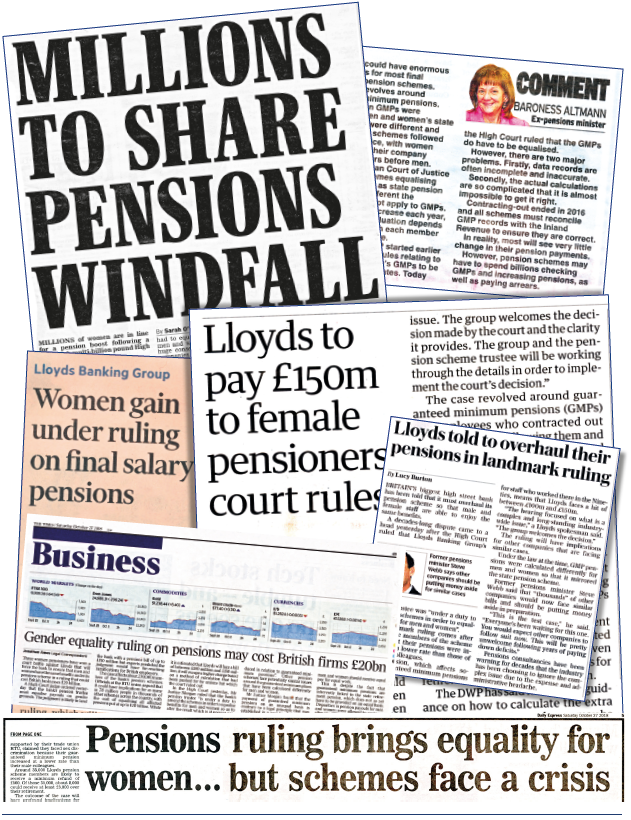 GMPs – A Brief History Of Time
1990
In the Barber case (17th May 1990), the European Court ruled that occupational pensions were deferred pay and, as such, schemes were required to treat men and women equally. As a result, schemes "equalised" their retirement ages, often at age 65, and adjusted their benefits accordingly. 
2010
in her statement to Parliament on 28 January 2010, the then Pensions Minister (Angela Eagle) announced that "domestic legislation requires equalisation in respect of differences resulting from GMPs whether or not real comparators exist" (namely, a worker of the opposite sex who is being treated more favourably). Two Government consultations on possible methods for achieving this followed.
2012
The first method consulted on would have required schemes to compare, on a year by year basis, the position of a male against a female and pay the better of the two benefits. But this method was criticised for being "administratively expensive" and resulting in better benefits for both sexes than either sex would otherwise have received.  As a result, the DWP set up a working group in 2013 to consider other possibilities.
2016
The DWP's subsequent method involves a one-off calculation and actuarial comparison of the benefits a man and woman would have, with the greater of the two converted into an ordinary scheme benefit under the legislative facility for converting GMPs. However, the DWP made clear that trustees would not be obliged to use this method, as it did not consider providing a "safe harbour" method for achieving equalisation would be appropriate.
2016
BTU took advice from Andrew Short QC (he represented the 3 female members at the High Court hearing) who concluded that GMPs were discriminatory and must be equalised. He said that an Employment Tribunal would conclude that the pensions of female members should be increased to the higher rate that applies to men.
2016 – September
BTU put together a class action lawsuit to present to the Employment Tribunal on behalf of members that you were victims of discrimination. Members could register their details and thousands signed up.
2016 – August
The Union wrote to the Bank and Trustee claiming that female members are the victims of discrimination.
2016 – November
The Bank, the Trustee and Union agreed jointly to refer the Union's landmark legal action on Guaranteed Minimum Pensions (GMPs) to the High Court. 
Under what's called a 'Part 8' referral the High Court was to be asked to determine the answers to a series of questions on the equalisation of GMPs. Those questions were agreed by the respective legal teams.
2018 – July
The case goes before Mr. Justice Morgan in the High Court. 
2018 – October
Mr. Justice Morgan says that GMPs must be equalised.